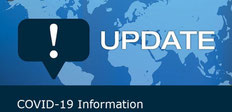 Corona Update Friday April 3rd, 2020
From a medicial point of view it seems the situation in Hungary is still under control.
The number of confirmed people infected with the coronavirus now stands at 585.
In quarantine: 59. Recovered: 42. And unfortunately deceased: 21.
Database Thursday April 02nd.
Our office in Austria and the production in Hungary had worked all days this week.
And we see next week, starting from Monday 06th, as assured regarding availibility of staff and raw material.
There are currently no obstacles that resrict us in fulfilling of our orders!  
Next week the April 10th, Easter Friday, is an official holiday in Hungary and the production is closed.
Upcoming Corona update on Thursday 09th.
---------------------------------------------------------------
Corona Update Friday March 27th, 2020
A new regulation will come into effect in Hungary from tomorrow 28.03.2020 till 11.04.2020:
People are only allowed to leave their homes to go to work or do important purchase.
Grocery stores and pharmacies will be open daily to people over the age of 65 between 9 am and 12 am. 
Other people will not be allowed to visit the stores during this time.
The positive information is, we can continue go to work and fulfill your orders!!
Production at Speed-Tech runs still in 3 shifts, there are no sick leave above the normal level.
The supply of raw material for the next week and beyond is assured.
From today's perspective, there are no obvious reasons why the operation cannot be maintained.