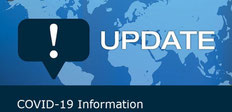 Corona Update Friday May 08th, 2020
The number of confirmed people infected with the coronavirus in Hungary now stands at 3,150.
In compulsory home quarantine: 10,956. Recovered: 801. Deceased: 383. (Thursday 07th pm)
During today's (07th May) press conference, Chief Medical Officer Cecília Müller revealed a decline in new COVID-19 cases.
"Only 39 new cases have been registered in the last 24 hours, the number of confirmed cases has significantly reduced
over several days; and previous model calculations seem to be confirmed," she said.
After May 4, Hungary officially fell into two pieces as the Hungarian Government decided to ease the restrictions that help
to stop the spreading of the coronavirus epidemic except for Budapest and Pest counties. In Budapest and Pest County,
the limits valid from March 28 still will be valid for an uncertain period because most of the infected people are located in these areas.
In the eighteen counties of Hungary, so in our City of Ajka too, the restrictions are no longer valid, but that does not mean
that everything is back to normal again. Everyone is obliged to keep the 1.5 meters distance from other people.
Until August 15, no events are allowed to be organised but weddings, funerals and other religious events.
Theatres, cinemas, museums do not open.
Our company was working this week as we planned. The Production at Speed-Tech runs partly in 3 shifts, there are no sick leaves
and raw material is available, supply chain is working well.
So regarding to our company, our customers and stake holders can be reasured, everything is still working well
and we work strong to secure this status quo.
Because of the good situation we suspend temporarily the Corona Update here in our webpage, if there will be any important change
we will inform you a.s.a.p.
---------------------------------------------------------------------------------
Corona Update Thursday April 30th, 2020
The number of confirmed people infected with the coronavirus in Hungary now stands at 2,727.
In compulsory home quarantine: 10,071. Recovered: 536. Deceased: 300 (Wednesday 29th pm)
The goverment said on Wednesday 29th "We have now reached a balanced situation in Hungary,
which provides an opportunity to possibly introduce a reduction in restrictive measures," László Palkovics,
the minister of technology and innovation, has said that with staggered regulations, the epidemic can be controlled,
and the time is soon coming to restore normal living and the economy.
Our company will run in "full modus" from Monday, May 04th in all parts of production in the same modus like before the Virus.
The Supply chain works very well too, there is no interruption in the production process.
The health level of our staff is 100% and we comply with all important rules for hygienic workplace to secure this high level.
The fact is positive that we came through our first four month of the business year 2020 without any "damage"!
Til today Covid19 has not negativ effect to our business and economic outcome. We think that the coming period 2020
will be far more challenging, not only for us, as the last 2 month, but we will stay positive and are prepared to face
the challenge.
Next update Friday, May 08th.
-------------------------------------------------------------------------------
Corona Update Friday April 24th, 2020
The number of confirmed people infected with the coronavirus in Hungary now stands at 2,284.
In compulsory home quarantine: 10,942. Recovered: 390. Deceased: 239. (Thursday 23rd pm)
Goverment said Hungary will outline its plan of how to emerge from epidemic-related restrictions on May 3rd. 
Hungary will be in "full protection mode" on May 3rd, from that time onwards the country could gradually return to normal life.
Since the outbreak of Covid19 our mechanical operation was running in 3 shifts without any interruption in the production
and supply chain. The electrical operation need a further capacity equalization, therefore the department will shut down
next week for 4 days again and will be back on Monday, May 04th.
In summary we can note that our company came through the Covid crisis well so far.
Today we see no special problems for the next weeks.
Recent capacity declines could be handled with leave days and at the moment there is no need to put employees on
short-time work.
Next update April 30th. 
 ---------------------------------------------------------------------------------
Corona Update Friday April 17th, 2020
The number of confirmed people infected with the coronavirus in Hungary now stands at 1,652.
In compulsory home quarantine: 12,737. Recovered: 199. Deceased: 142. (Thursday 16th pm)
According newspapers although the Covid19 situation in Hungary seems under control, the hospitals are preparing
36000 new beds for future corona patients. The goverment informed that they will extend the duration of movement restrictions
(started on March 28th) for one week more till Saturday 25th. and thereafter will follow the next decisions.
This movement restrictions has no negativ consequence for us as manufacturer and our staff is every day at work.
We implemented all important hygiene regulations in our company and external visitors not allowed to enter the company!
Our mechanic and welding production was running this week as planned and the supply chain of raw material was
working in a good way too. Even the C19 law in Italy is still restrictive for companies, we got raw material with special permission
of the Italian Ministry of Economics for subcontractors and manufacturers in the food and pharma industrie.
After 4 days shut down this week, our electronic assembling will resume with regulary operations from next Monday April 20th.
In summary: We still see no obstacles that resrict us in fulfilling our orders.
Next update Friday April 24th. 
--------------------------------------------------------------
Corona Update Thursday April 09th, 2020
The Corona situation in Hungary can still be described as stable so far, although it has increasing numbers this week again.  
Number of confirmed people infected with the coronavirus today stands at 980. In compulsory home quarantine: 16.006.
Recovered: 96. Deceased: 66.
We currently have 0% sick leave in the company and were able to maintain normal production operations in this week.
The supply chain is still working and we have been supplied with the raw material in time.
The mechanical operation and welding production next week, from April 14 to April 17, will operate in 3 shifts and is in terms
of capacity and raw material secured already.
For the electrical department we see a possibility of capacity equalization, for that we will take the opportunity of the easter
holidays and shut down the production for 4 days next week. Electrical operation starting again on Monday April 20th.
In general, we can state that the Corona crisis has not led to any loss of sales so far. Nor have we had any major problems
with the supply chain. The future development of the economic in Europe and world wide is unclear even to the best experts,
but we remain positive and continue to work focused for our customers. 
Our plant in Hungary is closed tomorrow, because "Easter Friday" is a public holiday.
Next update on Friday April 17th.
----------------------------------------------------------------------------------- 
Corona Update Friday April 3rd, 2020
From a medicial point of view it seems the situation in Hungary is still under control. The number of confirmed people infected with the
coronavirus now stands at 585. In quarantine: 59. Recovered: 42. And unfortunately deceased: 21.
Database Thursday April 02nd.
Our office in Austria and the production in Hungary had worked all days this week.
And we see next week, starting from Monday 06th, as assured regarding availibility of staff and raw material.
There are currently no obstacles that resrict us in fulfilling of our orders!  
Next week the April 10th, Easter Friday, is an official holiday in Hungary and the production is closed.
Next update on Thursday April 09th.
---------------------------------------------------------------
Corona Update Friday March 27th, 2020
A new regulation will come into effect in Hungary from tomorrow 28.03.2020 till 11.04.2020:
People are only allowed to leave their homes to go to work or do important purchase.
Grocery stores and pharmacies will be open daily to people over the age of 65 between 9 am and 12 am. 
Other people will not be allowed to visit the stores during this time.
The positive information is, we can continue go to work and fulfill your orders!!
Production at Speed-Tech runs still in 3 shifts, there are no sick leave above the normal level.
The supply of raw material for the next week and beyond is assured.
From today's perspective, there are no obvious reasons why the operation cannot be maintained.